Downstream Equipments are useful in the machineries and plant where the final end products needs to be cooled and sized properly. The machines we offer are prepared using the best methods to make them efficient and accurate in performing the assigned task. Each variety of downstream equipments made for the pvc pipe plant is prepared for a specific work. Our equipments consist of die hard, jockey extruder, vacuum calibrators, water spray bath, printing machine, pipe cutting unit, heater cooler mixer, spring conveyer, etc. Each of the machines is made under expert supervision and controlled manufacturing environment.
The die head is used in various machines to cut the elements of thread shaped. We provide a wide range of die heads according to the diameter of the pipe required. The diameter ranges from 20mm to 2000mm.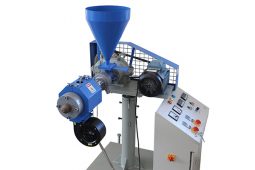 This equipment is used for making lines on the pipes and cables. They are mobile and can be moved to another location easily and smoothly.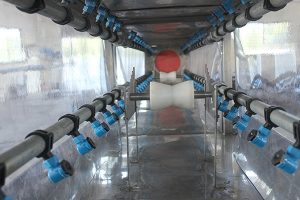 The water spray bath is used to cool the object prepared as it is at high temperature. The product is cooled so as to give it a permanent shape and size. They spray water on the product at a constant rate and even helps in providing an extra layer of coating on the pipe.
The printing machine we offer are used to print logo, ISI marks, size, etc. on the pipes. The machine has a capacity to give even impressions on a standard size of pipe. The size of pipe ranges from 20mm to 280mm and is friction driven so does not need any electricity and compressed air to operate the printing machine.