Vandana Plastic Machineries has become the brand name for providing the best and extensive range of high speed heater cooler mixer. The machines have great capacity to handle various kinds of materials with varying chemical properties and temperatures. This mixer helps in cooling and heating the mixture at a great speed to complete the process speedily. The machine contains twin jacketed mixing vessel that helps in effectively preparing the desired output and temperature of the mixture. The high speed machine is majorly used in the industries that work with the mixtures that need to be mixed speedily as they settle down quickly.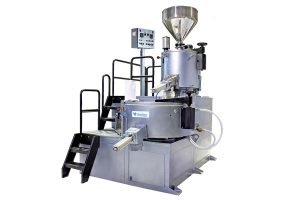 The high speed heater cooler mixture induces the heat through friction. We offer this mixer in the compact size so it occupies less are and has great production capacity.
These mixers are made from the best in grade components and efficient working components that enhance the efficiency of the mixer. The high speed heater cooler machine is prepared from high grade of stainless steel material to make certain that the machine does not get corroded easily and can smoothly last for a long time. The machine works at great speed and this enables in preparing a homogenous mixture in less time span. We offer these machines in standard and customized format and at the best rates according to the model.