RPVC stands for rigid polyvinyl chloride. The RPVC pipe plant is fabricated under the supervision of our dexterous professionals that have great experience in the field of manufacturing the pipe plants. We have special departments to handle each and every task from raw material collection to final end product storage. Each of the plant is classified in different models as per the production capacity and diameter of the pipe. The RPVC pipe plant is generated in accordance to the quality standards to provide the customer satisfaction. They are designed by the skilled professionals to make them smooth and accurate in dimensions.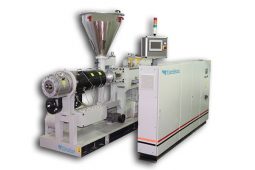 The RPVC pipe plants we offer are rigorously prepared under high examination to give flawless performance. These plants are offered in different technical specifications requested by the client.
Each of the components is designed with utter care and under the supervision of the experts. The RPVC pipe plant is prepared as per the standard dimensions and features to improve the durability of the pipes. This plant also helps in increasing the production capacity of the industry and also improves the quality. We offer them in standard specifications and even modify them on the request of the client.